I recently was commissioned by author Susanna Leonard Hill to create the badge for the blogger event, Perfect Picture Book Fridays. Here is my approved designed: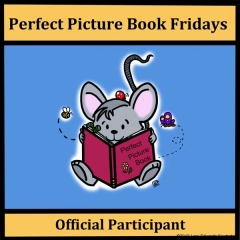 Perfect Picture Book Fridays are more than reviews of picture books. It's a listing of picture books that are favorites among the participants. The reviewed books from blog participant's are alphabetized by category and labeled by age appropriate on Sussanna's blog. It's a great resource.  Here is an excerpt from Sussana's page:
There are millions of great books out there, but sometimes it's hard to find just the right one.  How do you know if a book is worth lugging home from the library or, even more important, worth your hard-earned money?
Perhaps you need a book on a certain subject for your child, or to enhance a curriculum unit in your classroom or homeschool.  Perhaps you're looking for a gift and aren't sure what would be appropriate…
We all want to introduce our children to the joys of books, and encourage them to be life-long readers.  So much of that is dependent on finding the right books to suit their individual needs and interests.  The marketplace can be overwhelming and sadly, not all of us have time to go and chat with our local children's librarian or spend hours researching books.  Perfect Picture Books will be your new resource – a community of parents, teachers, librarians, and writers whose recommendations you can trust, and a way to make life easier for parents and teachers.
To learn more, please visit Susanna's site which also includes information on how to participate if you would like to contribute. To view the post from Susanna's site introducing the badge, please see this post.
I want to thank Susanna for this great (and fun!) opportunity for designing the badge.  She was a pleasure to work with and I had a lot of fun creating this piece.

Click here learn more about the Project 'Smile'.  It is open to anyone who wishes to participate.