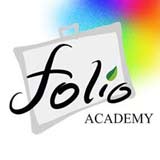 I was fortunate enough this week to be one of the lucky winners of the video tutorial series by illustrator/educator Will Terry.  How to Design A Drawing is offered at Folio Academy for $29.99.
I own 3 other Will Terry video tutorials, and I can honestly say they are worth every penny and then some.  No where else on the web can you find such wonderful instruction at such a low price.  At least not that I have found.
In Digital Painting in Photoshop I & II, Will gives the student instruction on his basic Photoshop digital painting techniques.  He is clear, concise and knowledgable in his instruction.  Another point I want to make is that Will is very down to earth.  I have taken other courses before, and Will is by far the best online art instructor I have had.
In How to Illustrate Children's Books, Will walks you through the thumbnail stage through to the final pieces of a book he designed.  It is very informative.  It is a great companion to some excellent books, such as Uri Shulevitz's Writing With Pictures.
The newest video tutorial series is How to Design A Drawing.  I have only browsed the series and watched the first part.  So far, it is great. The series consists of 10 sections including: Why is Design Important?, Composing, Design Principles, etc. The whole 10 episodes combined is almost 3 hours long.
If you would like to browse these titles further please check out the Folio Academy.  It is a great resource that has quite a few tutorials for purchase including ones on watercolor, screen printing, digital painting, perspective, etc.
Note: I am in the affiliate program for folio academy. Links associated with this post will be credited to my site for a possible referral fee.