Happy Holidays to all of my fans from all over the world. I hope 2014 brings you lots of laughter, good health, and happiness. Here is a little painting I did for the season. Cheers!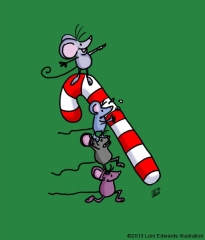 Buy this artwork on a greeting card for Christmas at my shop on Zazzle! I also have it available as a New Year's card.
Here is a quote from one of my favorite author's Neil Gaiman. You can view the entire message and previous years wishes on his blog here.
I hope you will have a wonderful year, that you'll dream dangerously and outrageously, that you'll make something that didn't exist before you made it, that you will be loved and that you will be liked, and that you will have people to love and to like in return. And, most importantly (because I think there should be more kindness and more wisdom in the world right now), that you will, when you need to be, be wise, and that you will always be kind. -Neil Gaiman 2008