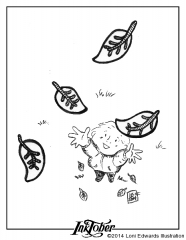 It is raining leaves! – Micron Pigma Brush Pen Black & Graphite pencil
Autumn leaves are falling to the ground here in Western Massachusetts. The fall colors are becoming more and more vibrant. As I walked on campus yesterday, I noticed the leaves coming down, just like rain. Beautiful!
I purchased a black Micron brand Pigma Brush pen. I really loved the feel of it. It is my first time using a brush pen for inking. I love the loose line it allows yet still with the control of a pen. I will be using it again!